Stanfords, London, 14 November 2023
Goethe Institut im Exil, Berlin, 2 July 2023
The Goethe-Institut in Exile dedicated the second half of 2023 to Afghanistan's cultural scene and to giving Afghan cultural workers a stage.
Amongst many other events between 29th June and 2 July, two of Untold's Write Afghanistan writers, Naeema Ghani and Marina Mohammadi, presented their perspectives. They also read from the anthology My Pen Is the Wing of a Bird: New Fiction by Afghan Women (MacLehose Press, 2022) and discussed current issues and challenges with the audience. 
This event was developed as part of 'Untold Narratives – Weiter Schreiben. Correspondence with Afghan Authors', a collaboration between Untold Narratives CIC, KfW Stiftung and Weiter Schreiben.
Bradford Literature Festival, Saturday 1 July 2023

German Cultural Sponsorship Prize, Deutschen Kulturförderpreis 22-23

Untold's partner, KfW Stiftung, was awarded the Kulturkreis der Deutschen Wirtschaft – the German Cultural Sponsorship Prize 2022/2023 for Untold's work, in collaboration with Weiter Schreiben, based in Berlin.
The price and its ceremony, held on 1 June, was announced in the German press and on national television (watch below, 27:00).

2 May 2023 - 9th World Summit on Arts and Culture -IFACCA, Sweden

Saturday 5 November 2022 - Stroud Book Festival


To discuss 'My Pen is the Wing of a Bird' and the two years of collaboration with women in Afghanistan and elsewhere, Zarghuna Kargar, one of the translators who worked on the anthology, contributor Marie Bamyani, and Lucy Hannah, founder of the Untold Narratives project, joined chair Caroline Sanderson at Stroud Book Festival. 
Monday 17 October 2022 – New Voices of Afghan Women, Villa 102, Frankfurt


Untold writers Batool Haidari, Naeema Ghani, and Marie Bamyani, and director Lucy Hannah, joined Annika Reich, artistic director of Weiter Schreiben, and KfW Stiftung for a live event in Frankfurt celebrating the work of Afghan writers and the two year long collaboration between Untold and Weiter Screiben supported by KfW Stiftung. 
The event took place alternately in English and German with simultaneous translation into Dari. 
Saturday 8 October 2022 – Birmingham Literature Festival
Sunday 25 September 2022 – Gothenburg BookFair, Sweden
The founder of Untold, Lucy Hannah and some of Afghanistan's leading female poets and journalists, including Masoma Kawsary, contributor to My Pen Is the Wing of a Bird, and Nilofar Langar, an Afghan poet and journalist joined Kholod Saghir, Editor-in-chief of PEN/Opp, at Gothenburg BookFair to discuss Afghan culture and art.
Saturday 13 August 2022 – The Llangwm Literary Festival, Pembrokeshire
25-26 June 2022 – The Felixstowe Festival

A special digital event at Felixstowe Festival to celebrate the publication of My Pen Is the Wing of a Bird: New Fiction by Afghan Women.
Contributors of the book joined novelist and Royal Literary Fellow Ruth Dugdall to discuss these vital, unexpected short stories that are both unique and universal.
Monday 20 June 2022 – York Festival of Ideas
Director of Untold, Lucy Hannah, translator, Parwana Fayyaz, and contributing writer, Fatema Haidari, joined York Festival of Ideas to discuss the Untold: Write Afghanistan project.
The event explored the process of developing the anthology My Pen Is the Wing of a Bird and the experiences of the Afghan writers, translators and editors who delicately crafted this powerful collection of stories.
This event took place live on Zoom Webinar and is now available to watch on Youtube.
Sunday 12 June 2022 - Wimbledon Book Fest
Robert Graves Tent

Lucy Hannah and translator Zarghuna Kargar were in conversation with Sanam Shantyaei at this live event on Wimbledon Common to discuss the Write Afghanistan project and the creation of the anthology My Pen Is the Wing of a Bird: New Fiction by Afghan Women.
They were joined by two of the contributing Afghan writers, who were live-streamed in from Germany and Afghanistan, to discuss their love for writing and the inspiration behind their stories.
Saturday 28 May 2022 - Hay Festival
This special event, in partnership with Hay Festival, celebrated the launch of My Pen Is The Wing of a Bird: New Fiction by Afghan Women. 
Contributor Masoma Kawsari joined translator Zarghuna Kargar and Untold Narratives' Founder and Director Lucy Hannah to discuss and perform extracts of these powerful, profound and deeply moving new pieces.
You can watch the recording of this event on Hay Player. 
Sunday 24 April 2022 - Cambridge Literary Festival
In April, Parwana Fayyaz, one of the translators of the anthology My Pen Is The Wing of a Bird, was welcomed to Cambridge Literary Festival in conversation with Will Forrester, Translation and International Manager at English PEN and Kübra Gümüşay, author, feminist academic and activist. The event included readings from the anthology as well as a discussion on the importance of hearing marginalised Afghan voices.
A recording of the event will soon be available on Cambridge Literary Festival's website as part of their 'Spring Festival 2022 Online Pass'.
23 April 2022 - Chipping Norton Literary Festival
One of the highlights of ChipLitFest 2022 was the event celebrating the publication of 
My Pen Is the Wing of a Bird.
 The BBC's chief international correspondent,
Lyse Doucet
, wrote the introduction to the book and came to Chipping Norton along with one of the translators, 
Zari Kargar
. 
Lucy Hannah
, founder of 
UNTOLD
the organisation that had commissioned the stories, joined via Zoom from Assam. 
10 March 2022 - European Parliament liaison office in the UK: Europe House and online
The European Parliament seeks to maintain the Afghan women's situation high on the EU and international agenda, and this event had at its heart the anthology of short stories by contemporary Afghan women writers – My Pen Is the Wing of a Bird, New Fiction by Afghan Women, which is the first of its kind in translation, from Dari and Pashto. Since the Taliban takeover, and with the regression of women's rights and status within the Afghan society, these stories have a particular resonance. Join us to explore these women's stories at this critical juncture in Afghanistan.
Speakers: Samira Rafaela MEP, a Member of the European Parliament on behalf of D66 since 2019; Lucy Hannah, founder and director of Untold Narratives CIC, which produced the anthology; Zarghuna Kargar, one of the translators of My Pen Is the Wing of a Bird, New Fiction by Afghan Women; Nicola Dahrendorf, Chair, a human rights and humanitarian practitioner, focused on protection, peacebuilding and conflict resolution in conflict and post-war contexts.
3 March 2022 - Waterstones Piccadilly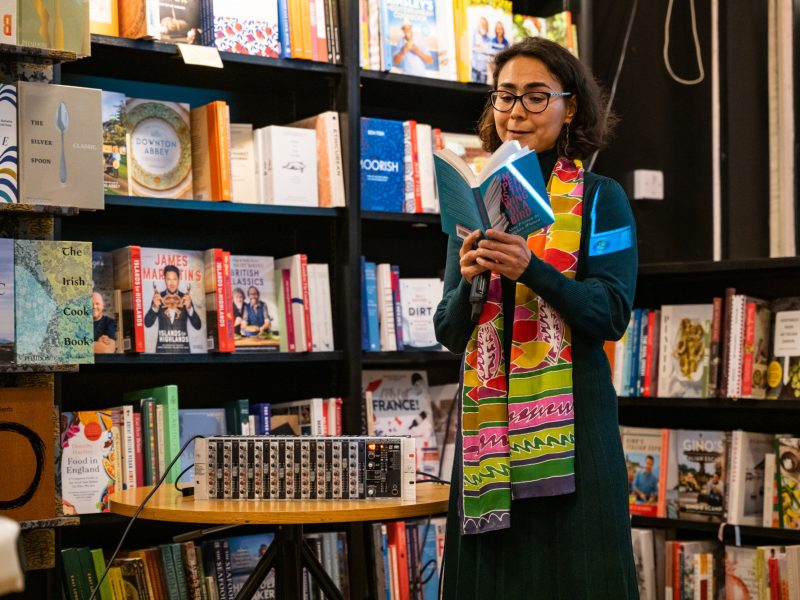 Zarghuna Kargar and Lucy Hannah were in conversation with Georgina Godwin, with readings by Parwana Fayyaz.

Untold is a Community Interest Company (company number 12654173). Prospero World (UK registered charity number 1163952) receives charitable donations in support of our work through its fiscal sponsorship programme, and receives tax efficient donations from UK donors on our behalf.