For our project Write Afghanistan, our team of international editors and translators work with local women writers to develop their creative writing, connect them to one another, share their stories with readers in their own languages, and reach new global audiences in translation. We believe a region's upheaval cannot be understood without local, and particularly women's, perspectives.
My Pen Is the Wing of a Bird: New Fiction by Afghan Women is the first collection of its kind, published by MacLehose Press on 17 February 2022.
We are currently establishing the Paranda Network for Afghan writers in Afghanistan and those in the diaspora. This digital space supports, translates and promotes the work of these writers and offers them a constant connection to each other and to those in creative industries around the world. It offers Afghan writers a way to share their stories in their own languages and in translation and develop their craft. This work is supported by our partner, KfW Stiftung.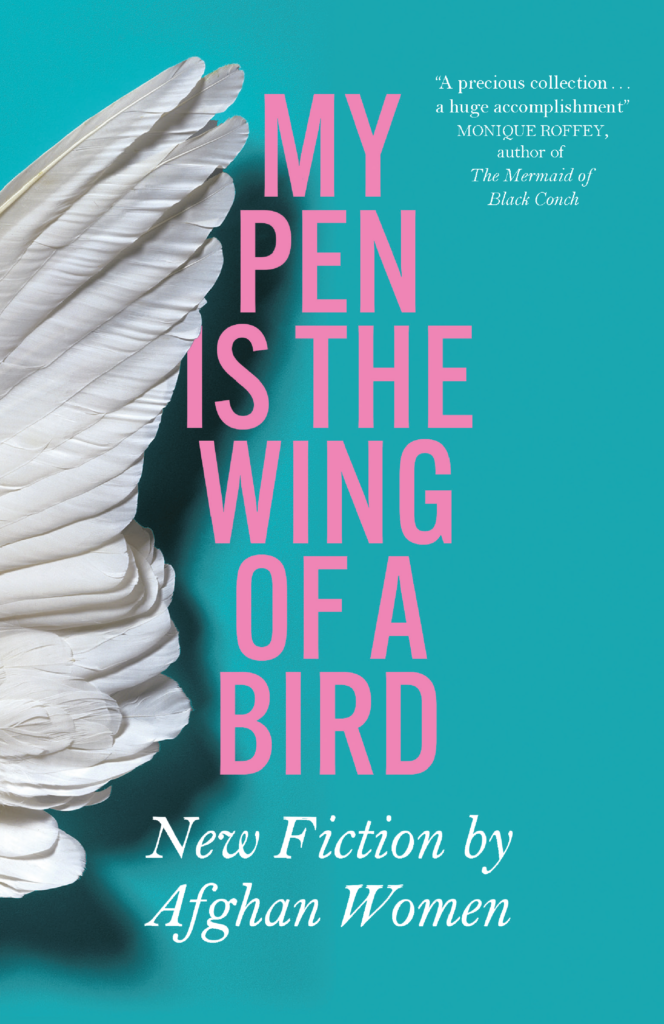 New fiction by Afghan women
Stories by 18 writers from the Write Afghanistan project are published in My Pen Is the Wing of a Bird: New Fiction by Afghan Women (MacLehose Press).
My Pen Is the Wing of a Bird is a landmark collection: the first anthology of short fiction by Afghan women. These writers tell stories that are both unique and universal – stories of family, work, childhood, friendship, war, gender identity and cultural traditions; with an Introduction by Lyse Doucet and an Afterword by Lucy Hannah.
My Pen Is the Wing of a Bird has been published in the USA, Korea and Japan, and it was shortlisted for the Jan Michalski Prize for Literature 2022.

See our Press page for more reviews.
"This book is a precious collection of work, the first and maybe last of its kind. My Pen Is the Wing of a Bird is a huge accomplishment"
Monique Roffey, author of The Mermaid of Black Conch
"Powerful, profound and deeply moving, these stories will expand your mind and elevate your heart"
Elif Shafak
"As the current humanitarian crisis in Afghanistan grows, with millions at risk of starvation, it seems more important than ever to read the work of these courageous writers"
Financial Times
"This book is like a little light shining into the lives of women in Afghanistan… a beautiful read"
Jo Brand

Since the Taliban re-took control in August 2021, the writers in the Write Afghanistan project have stayed connected via a secure messaging App. For the first year of Taliban rule they shared their stories in the form of diary style exchanges between each other.  These short, poignant entries in Dari and Pashto are very real glimpses – from emerging literary voices – of daily life from the women's perspective. In the UK, the Financial Times and The Week published extracts from this Diary to mark the one-year anniversary of the fall of Kabul in August 2022. Excerpts from the Diary have also been published in literary journals in Germany, Sweden, and Belgium. 
In December 2022, the BBC published a special feature, BBC 100 Women, which names 100 inspiring and influential women around the world every year. As part of this, it shared 'The Secrets Shared By Afghan Women', which consists of excerpts from the Diary and interview of two of the Paranda Network writers by Lyse Doucet and Zarghuna Kargar. 
Untold is partnering with children's book publishers, Scholastic, to publish a collection of stories and diary excerpts written by 'Write Afghanistan' writers over the past year. 
Formatted as a diary and aimed at readers aged eight and over, the book will feature extracts from real-life diaries, giving an insight into the experiences of Afghan women during and immediately after the fall of Kabul. Each "entry" will help to provide readers with a better understanding of life under Taliban rule and as a refugee. Every chapter includes diary excerpts and fact boxes including information on different aspects of life in Afghanistan, both before and after the current regime took over the country in August 2021.
The children's book will be published on 12 October 2023. 
Write Afghanistan in Germany
Untold – Weiter Schreiben Afghanistan
Since 2020, Untold has partnered with, Weiter Schreiben, a literary platform based in Berlin, for authors from war and crisis zones. This collaboration offers writers from Untold's Write Afghanistan project an opportunity to be commissioned and published in translation across Germany.
Weiter Schreiben has re-published several stories from the anthology My Pen Is the Wing of a Bird on its platform in German.
Six of Untold's writers have also taken part in Weiter Schreiben's letter exchange programme where an Afghan woman writer is paired with an established German author for an exchange of "letters" /emails and mentorship.  These "exchanges" are then published in German. This programme is ongoing.
The Untold-Weiter Schreiben partnership is supported by KfW Stiftung. 
Weiter Schreiben Magazine
Untold and Weiter Schreiben continue to work together to promote and develop Afghan women writers. In October 2022, Weiter Schreiben released the fourth edition of their annual magazine, which showcases work from Untold's Write Afghanistan programme and includes interviews with its writers. The magazine celebrates the voices of Afghan women authors who tell stories of oppression, violence, and exile but also of sisterhood, silver high heels and the power of words.
 To celebrate its publication, Untold's writers and director Lucy Hannah joined Weiter Schreiben for a live event, hosted by supporter, KfW Stiftung in Villa 102, Frankfurt on 17th October 2022. The event was delivered in in English and German, with simultaneous translation in Dari.
Helen Wolff Grants
In September 2022, nineteen of Untold's writers were awarded Helen Wolff grants to support their work. The grants were set up by descendants of Helen & Kurt Wolff to support politically persecuted women writers. These grants were administered by Weiter Schreiben and Untold's writers were the first to receive them.
The grants helped these women to buy laptops and enabled and encouraged them to continue their writing.

Project Team - Write Afghanistan
Lucy Hannah – Project Director
Sunila Galappatti – Editor

Sunila has worked with other people to tell their stories, as a dramaturg, theatre director, editor and writer. She has worked with the Royal Shakespeare Company, Live Theatre, Kali Theatre and Raking Leaves.  Most recently, Sunila has worked as a fiction and non-fiction editor with Commonwealth Writers and as a Consulting Editor at Himal Southasian.  She was Director of the Galle Literary Festival (2009 & 2010) and is the author of A Long Watch, which retells the story of a prisoner of war in the Sri Lankan conflict.
Lavinia Lyon – Project Manager

Lavinia specialises in documentary storytelling on behalf of marginalised communities. For the past 15 years she has lived and worked in Afghanistan and the African Sahel, where she worked as a project manager for the media development organisation, Equal Access; and then in the Arab Region, making short and longer films, photographing, and writing features for the global print media. Founder of Lions Tail Films, she is regularly commissioned by charities and not for profit organisations to document their work. A modern languages graduate, she is currently studying Arabic and Farsi.
Zarghuna Kargar – Project Advisor and Translator
Zarghuna is an award-winning journalist for BBC World News, based in London. She produced and presented the BBC Afghan Woman`s hour and is the author of Dear Zari, The Secret Lives of Women in Afghanistan (2012), a book that reveals the secret lives of women across Afghanistan and allows them to tell their stories in their own words. She has dedicated most of her journalistic career to working for and with Afghan women, reporting and writing their stories. She also wrote Amina's story, in 2013's Girl Rising documentary. Zarghuna speaks Pashto, Dari, English and Urdu.
Parwana Fayyaz – Translator
Born in Kabul, Afghanistan in 1990, Parwana was raised in Quetta, Pakistan. She earned both her B.A. in 2015, with a major in Comparative Literature (with Honors) and a minor in Creative Writing (Poetry) under the supervision of late Eavan Boland, and her M.A. in Religious Studies in 2016 from Stanford University. She then moved to Cambridge University to pursue a PhD in Persian Studies at Trinity College in September of 2016 and completed a thesis titled, 'Poetry and Poetics: the Sufi Eye and the Neoplatonic Vision in Jāmī's Salāmān va Absāl', in 2020. She took up a Junior Research Fellowship as the Carmen Blacker Fellow at Peterhouse, Cambridge University in October 2020.
Dr Zubair Popalzai – Translator
Zubair is a Pashto, Dari and English language translation and interpretation professional with more than 20 years' experience. He is a consultant translator for BBC Monitoring and has worked as an interpreter for United Nations special envoys in politically and militarily sensitive environments in South Asia. He also works as a legal interpreter at solicitors' offices, tribunals, immigration detention centres and police contexts in the UK.
Negeen Kargar – Translator

Negeen is a translator, writer, and research scientist. She has translated and interpreted for the Guardian, Channel 4 and BBC Radio, and is an Associate Member of the Royal Society of Chemistry.
Patrick Spaven – Monitoring and Evaluation
Patrick is Technical Lead at Global MEL Contract, Conflict Stability and Security Fund. He is also an independent consultant and practitioner in monitoring, evaluation and learning (MEL) and Theory of Change (ToC), and Visiting Fellow at Manchester University. He works mainly in international development and in building MEL systems in governments, organisations, grant funds and programmes.