This project is a collaboration between Untold in the UK and BEE Books in Kolkata, to promote Indian literature in translation. Write Assamese focuses on emerging local Assamese writers.
The translation ecosystem in India suffers from a lack of training opportunities. At the same time, aspiring fiction writers are often marginalised due to circumstance, language, and lack of opportunities to develop their work. This project carves out a space for consistent, quality translations emerging from Assam to generate new fiction for international audiences.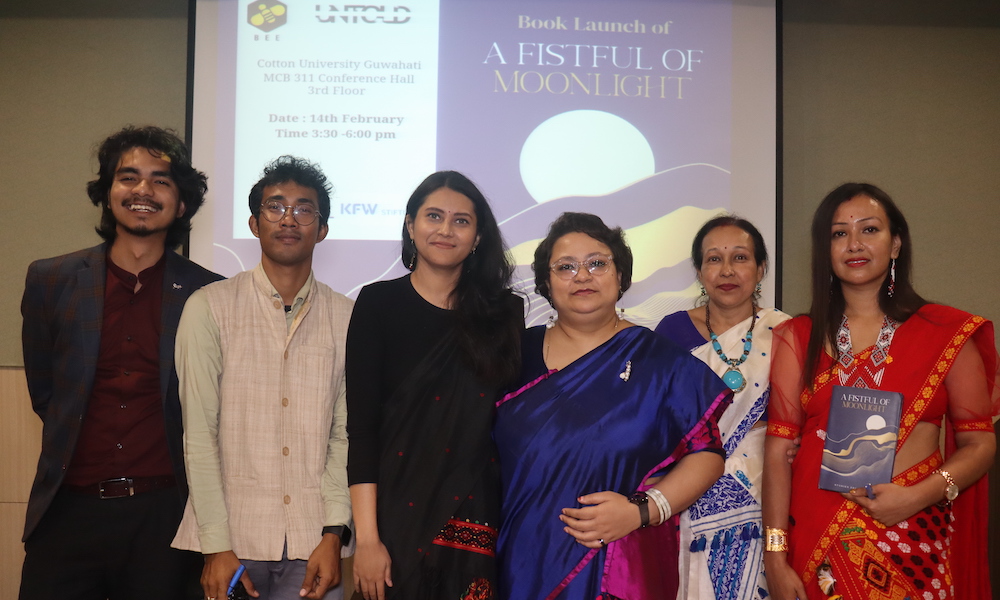 A Fistful of Moonlight: New fiction from Assam
The stories from the Write Assamese project are published in A Fistful of Moonlight: New Fiction from Assam.
A Fistful of Moonlight is a collection of fourteen stories that explore love, identity, politics, fantasy and a fresh take on an age-old fairy tale, transporting readers into the heart of contemporary writing from Assam. Edited by Mitra Phukan, Arunava Sinha and Lucy Hannah.
Along with support from KfW Stiftung this anthology is published as part of the British Council's India/UK Together season marking the 75th anniversary of modern India and highlighting the friendship and cultural bonds between the two countries, while also addressing shared global challenges. Available in India (Bee Books, Jan 2023) and the UK (MacLehose Press/Hachette UK, Nov 2023).
A Fistful of Moonlight will also be published locally, by Student House publisher in Guwahati, Assam, fulfilling Untold's goal of reaching local audiences in local languages. You can also read three of these stories in the global online journal, Words Without Borders: in December 2022 and January 2023.
Lucy Hannah – Project Director
Lucy specialises in setting up and delivering creative initiatives with marginalised communities. She founded and led
Commonwealth Writers
which operates across 53 countries, particularly in areas with little or no creative industries. While at the BBC, she established 
BBC Writer's Room
which discovers, develops and champions new writing talent across the UK. She has worked with writers in areas of conflict and post-conflict, including: Afghanistan, Chechnya, Pakistan, Sri Lanka, South Sudan and N.E. Nigeria. She is a Visiting Research Fellow at King's College, London, and Director of the BOCAS LitFest in Trinidad.
Esha Chatterjee – CEO of Bee Books
Esha runs the publishing house BEE Books and loves the art of making beautiful books. BEE Books publishes everything from translations, fiction, non-fiction, essays to graphic novels and corporate coffee table books. She also is the Managing Director for Patra Bharati and heads the marketing wing for the Bengali publishing press. She actively participates in structuring the events and looks after national and international collaborations, participates in various book fairs. She is also a book reviewer, critic, and moderator for literary events.

Mitra Phukan is a writer, translator, columnist and trained classical vocalist who lives in Guwahati, Assam. Her published works include four children's books, a biography, two novels—The Collector's Wife and A Monsoon of Music—and a collection comprising fifty of her newspaper columns, titled Guwahati Gaze. In addition, her short stories have appeared in various journals. Her works have been translated into several Indian and European languages. As a translator herself, she has brought the works of some of the best-known contemporary Assamese fiction writers into English. Her widely read column, 'All Things Considered', appears fortnightly in The Assam Tribune.
Arunava Sinha translates classic, modern and contemporary Bengali fiction and nonfiction into English.  He is twice the winner of the Crossword translation award, for Sankar's Chowringhee (2007) and Anita Agnihotri's Seventeen (2011), respectively, and the winner of the Muse India translation award (2013) for Buddhadeva Bose's When The Time Is Right. Besides India, his translations have been published in the UK and the US in English, and in several European and Asian countries through further translation. He is an associate professor of practice in the Creative Writing department at Ashoka University, and Co-Director, Ashoka Centre of Translation.
Subscribe for the latest news from Untold
Untold is a Community Interest Company (company number 12654173). Prospero World (UK registered charity number 1163952) receives charitable donations in support of our work through its fiscal sponsorship programme, and receives tax efficient donations from UK donors on our behalf.